.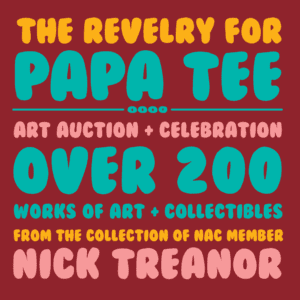 Join us Saturday 13 August beginning at 3PM for an art auction and celebration!
Art Auction: Saturday 13 August 2022 – Niagara Artists Centre – 354 St.Paul Street, St.Catharines, ON 
On Saturday 13 August NAC is hosting an auction of one of most beloved members, Nicholas Treanor, also known as "Papa Tee".
To do it up right, we're hosting a party at NAC that spills out onto the street and features an exhibit of Nick's unparalleled collection of visual art, the sale and live auctioning of select works from the collection as well as some of the more interesting curiosities in Nick's collection. We're capping it with a performance by one of Nick's favourite bands on St. Paul Street, the Woodshed Orchestra, who will perform from the mobile stage we've name after him: the Papa Tee Show Mobile
There was nothing Nick loved more than a great art exhibit and a band playing to a happy crowd. In his honour, this event delivers both.
3PM-6PM:
Live Auction and Remarks
3PM-11PM:
Silent Auction + Art Sale
7PM-10PM:
The Woodshed Orchestra
Read more about Papa Tee here.