RiverBrink Talks Online
​Lecture Series
Saturday, March 5 at 2pm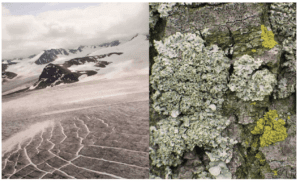 Lichen Field Work: Through a Scientific Lens
Presented by Daniel McCarthy (Associate Professor in the Dept. of Earth Sciences, Brock University)This talk provides a scientific perspective on lichen field work, to compliment the exhibition Lichen: Field Work by artist Melanie MacDonald, on view at RiverBrink until March 26th 2022.
"Lichens are usually ignored, but close-up views and paintings of their communities call attention to their amazing diversity and beauty. Lichens are pretty and amazing. Their biological makeup is complex – a merger of algae, fungus and bacteria. They are everywhere. Some live underwater, on rocks, inside rocks, on concrete, on soil and on trees. Many are highly sensitive to environmental change, some are 'weedy' and some are extremophiles that can tolerate air pollution, drought and extreme temperatures. Two common lichens have survived longterm exposure outside the International Space Station and there are many claims that specimens have lived for centuries.
This talk explains how I met the 'wrong people' and got hooked on lichens. It describes some of what I've learned and done with lichens. This includes an explanation of how anyone with a plastic ruler and almost no knowledge of lichens can assign reasonably accurate ages to glacier retreat in the Canadian Rockies. It also describes how 'citizen scientists' identified tree dwelling lichens and used them to estimate urban air quality in Ontario's Golden Horseshoe. Finally, you'll see how my 25yr long repeat photography project has challenged "pseudoscience" and very accurately documented lichen growth and survival."
-Dan McCarthy
Saturday March 5, 2pm | Online via Zoom
​By Donation
​
The talk will be offered through Zoom. If you have not yet used Zoom, you will have to download the app or program on to your device and create an account. Click here for more information.
If you would like to attend but are unable to make a donation at this time, please click below to register and receive the link.
RiverBrink Art Museum Inc.
116 Queenston Street
Queenston, Ontario ​
905-262-4510
http://www.riverbrink.org/
​
​manager@riverbrink.org
.